Johnny Rope (fka Metroboy) was the outstanding winner of the pre-Corona New Monstercock Superstar Contest by Hustlaball Berlin and MonsterCockLand in 2019. He tells us how the pride on his massive masterpiece developed over the years and how the contest boosted his rise in the porn-industry.
Johnny Rope war der überragende Sieger beim Vor-Corona New Monstercock Superstar Contest by Hustlaball Berlin & MonsterCockLand im Jahr 2019. Bei uns erzählt Johnny wie er bereits in frühster Jugend seinen gewaltigen Fickbolzen gerne bewundert hat lassen und wie der Contest seinen Aufstieg in der Porn-Industry so richtig in Fahrt gebracht hat. (Die deutsche Originalversion des Interviews findet ihr im Anschluss an die englischen Übersetzung)
In the 2019 New Monstercock Superstar Contest, you won with an outstanding margin of votes ahead of the runner-up. When and how did you realize that you are significantly better equipped than almost everyone else and that the "admirers" react so extremely to your huge tool?
It actually started when we were playing in the sandbox with the boys next door. We "had to" play naked in the garden in the summer when we were small kids (we couldn't decide for ourselves). I remember noticing that the other boys only had a little nub while my cock was already swinging back and forth. And I vaguely remember being a bit ashamed of it at that time and trying to hide my long cock from the others. At some point when I was in elementary school (long before puberty) I measured for the first time and I was (hard) about 11cm (4.5 inches), which surprised me because it looked so big on the ruler. At school I started making comparisons with other boys, just by looking in the school shower or by secretly holding cocks next to each other. Mine was always clearly bigger. At that point I also realized that having a big cock is something pretty cool. During puberty I quickly grew much larger. At that time I still always bathed at home with my younger brother. I regularly made him stare at my huge boner, which I always presented to him (of course completely unintentional – haha).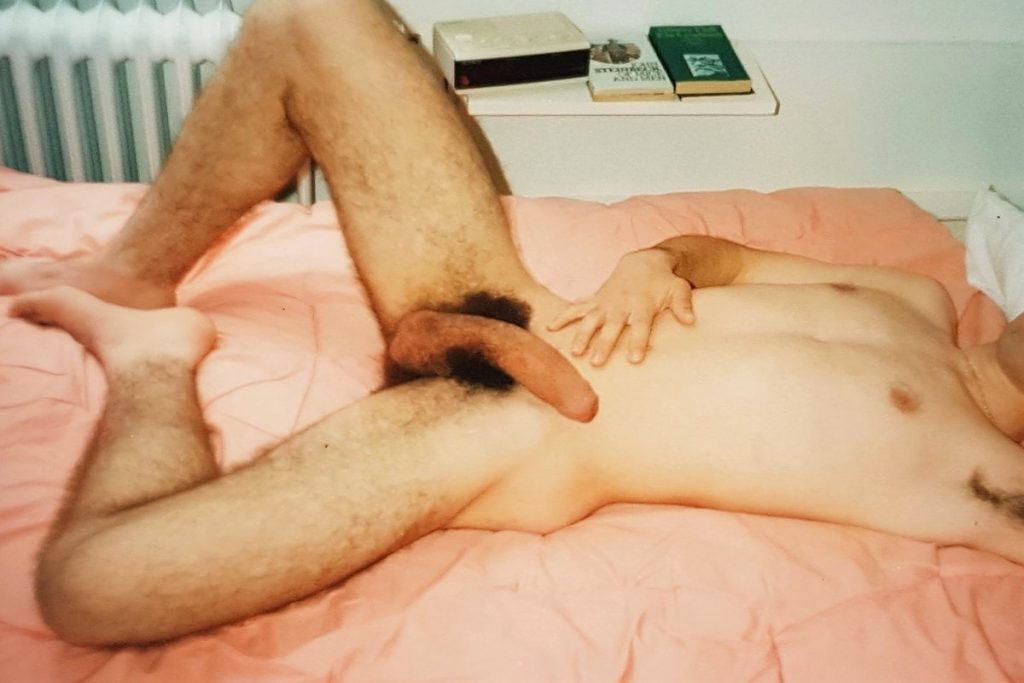 Since puberty, I measured it regularly and even wrote down the results with the date. Of course I have hidden the paper well from my family. I remember that at the beginning of puberty I quickly reached 16cm (6.5 inches). At the age of 15-16 I grew from 18cm (7 inches) to about 20/21cm (8/8.5 inches). After that, growth slowed down and it took another 6-8 years to get to today's 23cm (9 inches). Unfortunately, I can no longer remember all of this exactly, because at some point after moving house I couldn't find the piece of paper any more.
I would like to comment on measuring in general: Unfortunately, many cheat a lot. I don't know what kind of measuring tape people are using or from where to where they measure… Anyway, comparing cocks based on measurements like that doesn't make any sense. In a live cock-compare-session my 23cm have always been significantly larger; even compared to those who claim to have 25/26cm. That's why I don't like to write the measurements of my penis anywhere. Readers just can't tell if it's REAL or "Internet" inches.

What is the age difference between you and your brother, and did he ever catch up with your size?
My brother is 2.5 years younger. By the time my brother's penis started growing, too, we had stopped bathing together. That's why I've never seen his full-grown cock as closely and often as he did mine. But I think he has every reason to be very satisfied even though I am quite sure that mine is the biggest in my family.

How did you find out about the New Monstercock Superstar Contest in 2019 and why did you decide to take part?
I used to visit various websites like schwanzvergleich.de where cocks were rated. I was always happy to take part which often ended up in a first place. But most of the pages disappeared after a while. I just searched Google to see if there was anything new in this direction and then came across the Monstercock Superstar Contest. Of course, I didn't hesitate and took part right away. At the beginning I wasn't aware that this contest is "something bigger" with a jury and a presentation at the Hustlaball etc. So it is much cooler than the other competitions.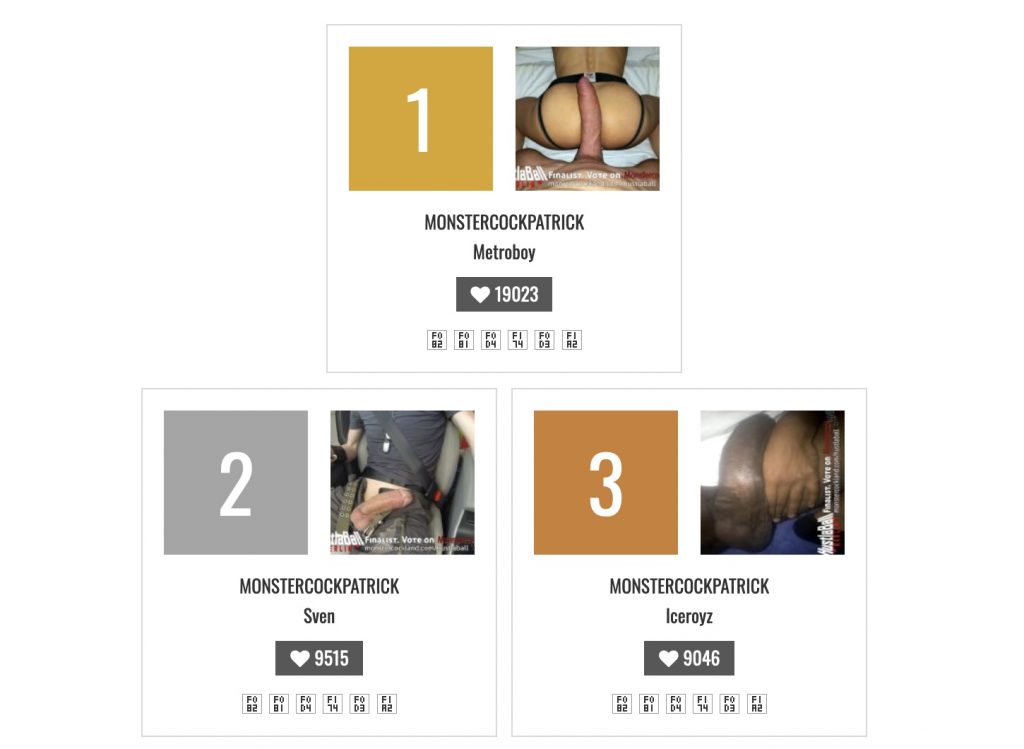 What was the coolest reaction to winning the Monstercock Superstar Contest?
It's hard for me to tell. I got a lot of congratulations, and the winner's title contributed to my success on Twitter, especially at the beginning. A friend who was visiting the Hustlaball and didn't know about my participation beforehand recognized me by my cock and then congratulated me. As a thank you, I fucked him a really good.

Before the contest, you only shot for "private pleasure" and fewer videos. How did you come up with the idea of founding this now very successful Twitter channel? And how did Onlyfans come about later?
In the spring of 2019, I realized that all the porn blogs I had been following on Tumblr had been "censored" and moved to Twitter. In the beginning, I got my Twitter account just to view content from other people. During the Corona lockdown in early 2020, I came up with the idea of uploading some own photos from my collection. And because I won the contest in 2019, my account was soon mentioned on Monstercockland. That gave me a very decent base of followers. Now it started to be real fun and I used the time during Corona to produce more content. Then I got the first requests for collabs with other pornstars who were already much better known. One of the first in 2020 was Robert Royal, with whom I shot a video that gave my Twitter a big boost. Since Robert wanted to use our video for his Onlyfans, he asked me to also register an Onlyfans account as a reference. I did that, but at the time I had no intention of running another channel besides Twitter. My Onlyfans remained unused for the time being while my Twitter grew bigger and bigger. There were more and more collabs, e.g. with Alex Roman, Nikita Kinka or Vadim Romanov, and my collection of videos grew bigger and bigger. In fall 2021, after I had reached 50K followers on Twitter, I uploaded my first videos to Onlyfans. This account has also developed well since then. But for me fun will always remain the top priority and not producing videos for Onlyfans. If both can be combined it's perfect, otherwise I would always give priority to good sex! Professionally, I do something completely different anyway. That's the reason why I cannot and don't want to show my face.

In the post months, you have already filmed with some well-known pornstars. How did you get in contact, where did you meet, and how was it for you?
The first contact with everyone was via direct message in Twitter, even though Nikita and I noticed later that we had already exchanged numbers years ago. We met on Grindr back then but didn't meet, probably because something got inbetween.
All my shooting partners are super nice in different ways and we keep in touch.
I visited Alex Roman in his hotel room when he was in Frankfurt. I was super nervous because he was the first big pornstar I fucked in front of the camera. And he has taken most of the famous monster cocks all in. Alex had a lot of stage directions, which were really good, but it was all a bit too much for me because I'd never done a shoot like this before. After the shooting we went out together in Frankfurt for about 3 hours and had dinner on a boat on the Main-River and had great conversations the whole time.
I met Robert Royal already 3 times. He often comes to Frankfurt and I always visit him in his hotel. We also write regularly. Because he's also a top, he organized a very hot and super-sized-cock-trained bottom for our 2nd shoot, who was able to DP our two giant cocks.
I visited Nikita in his apartment in Berlin. It was a super relaxed afternoon and night. We were four guys but one mainly filmed. Having a cameraman makes things a lot easier because you don't have to take care of the camera positions and light yourself. After the shooting we were still horny, and we just kept fucking for two more rounds. In between we had very tasty and authentic Vietnamese food. Nikita gave me a lot of good advice for Onlyfans. I am texting with him very often and we want to meet again soon.
I also visited Vadim at his house in Berlin. He was super nice and the shoot was very relaxed. At the beginning we set up the camera and after that we just hat fun without a script and without having to worry about the camera anymore. In between, we only filmed a few additional shots with the second cell phone.
I'm also talking to other "celebrities" via Twitter and Whatsapp, who live a little further away, but I'll definitely fuck them when there is a good opportunity to meet.
However, most of my shoots are with less-known bottoms, and there are many who can handle my huge cock as well as the celebrities.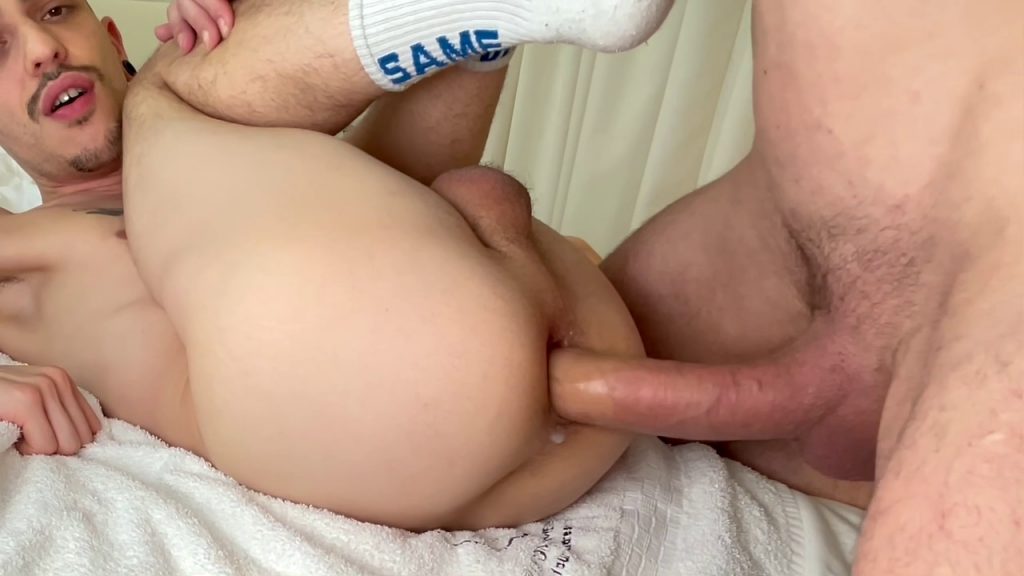 What is your advice for those who are still undecided about entering the 2022 contest?
Anyone who is well hung and has shown off while showering in the gym, in the sauna, on the nude beach or on the internet should definitely participate. But: Make sure you put some effort into the photos, because I've seen so many bad photos of actually very hot cocks. Don't use the first picture that comes along, but make a series. Vary the perspective and then select the best results. Pay attention to good light. Daylight is best. If you use artificial lightning then rather indirect. And pay attention to the image selection. For example, if you took a selfie in the mirror, but the picture itself is 5 times the size of the mirror, then cut it out. If you only see the dick and nothing of the surroundings, then there is a lack of orientation. In this case, the most beautiful and largest cock can look tiny and unimpressive. So, show how hung you are in the best lightning and angle to maintain your best chance to win the New Monstercock Superstar Contest, too.
Original German language version
Beim 2019er New Monstercock Superstar Contest hast du mit überragendem Abstand der Votes vor dem Zweitplatzierten gewonnen. Wann und wie hast du festgestellt, dass du deutlich besser ausgestattet bist als fast alle anderen und die "Bewunderer" so extrem auf dein Riesenteil reagieren?
Das fing eigentlich schon beim Spielen im Sandkasten mit Nachbarjungs an. Da "mussten" wir im Sommer im Kleinkindalter oft nackt im Garten spielen (wir konnten das nicht selbst entscheiden). Ich erinnere mich, dass mir da schon auffiel, dass die anderen Jungs nur so einen kleinen Knopf hatten während mein Schwanz richtig hin und her baumelte. Und ich erinnere mich dunkel, dass ich mich damals dafür etwas geschämt habe und versuchte, meinen langen Schwanz vor den anderen etwas zu verbergen. Irgendwann im Grundschulalter (also lange vor der Pubertät) hab ich auch zum erstem Mal nachgemessen, und da waren es (hart) so 11cm, was mich schon erstaunt hatte, weil es auf dem Lineal so viel aussah. In der Schule fing es dann auch an, dass ich mit anderen Jungs verglichen habe. Sei es nur so durch Hinschauen in der Schwimmbad-Dusche oder auch mal beim heimlichen nebeneinander Halten. Dabei hatte meiner immer einen deutlichen Vorsprung. Zu dem Zeitpunkt habe ich dann auch gemerkt, dass so ein großer Schwanz etwas ziemlich Cooles ist. In der Pubertät wurde er dann schnell viel größer. Damals badete ich zu Hause immer noch mit meinem jüngeren Bruder zusammen. Der musste sich regelmäßig schockiert meine Riesenlatte ansehen, die ich ihm immer präsentierte (natürlich vollkommen unabsichtlich – haha).
Seit der Pubertät habe ich regelmäßig gemessen und die Ergebnisse sogar mit Datum aufgeschrieben. Den Zettel habe ich natürlich gut versteckt. Ich erinnere mich, dass ich zu Beginn der Pubertät schnell 16cm erreichte. Im Alter von 15-16 Jahren wuchs er von 18cm auf etwa 20/21cm. Danach verlangsamte sich das Wachstum, und es dauerte noch weitere 6-8 Jahre bis zu den heutigen 23cm. Leider kann ich das alles nicht mehr ganz genau nachvollziehen, denn den Zettel habe ich irgendwann nach einem Umzug nicht mehr wieder gefunden.
Zum Messen allgemein wollte ich aber noch anmerken: Leider schummeln viele, dass sich im wahrsten Sinne die Balken biegen. Ich weiß nicht, was für ein Maßband die Leute nutzen oder von wo bis wo sie messen… Auf Basis solcher Maßangaben die Schwänze zu vergleichen macht jedenfalls keinen Sinn. Beim Live-Vergleich, selbst mit angeblichen 25/26cm Schwänzen, waren meine 23cm bisher immer deutlich größer. Daher schreibe ich nicht gerne die genauen Maße meines Penis irgendwo hin. Die Leser können einfach nicht auseinander halten, ob es ECHTE oder "Internet"- Zentimeter sind.

Wie ist der Altersunterschied zwischen dir und deinem Bruder und hat er schwanzmäßig zu dir aufschließen können?
Er ist 2,5 Jahre jünger. Als das Peniswachstum bei ihm so richtig in Schwung haben, haben wir nicht mehr zusammen gebadet. Deshalb habe ich seinen ausgewachsenen Schwanz nie so genau und oft gesehen wie er meinen. Ich glaube aber, er hat allen Grund sehr zufrieden zu sein, auch wenn mein Schwanz innerhalb meiner Familie sicher der größte ist.

Wie hast du 2019 vom New Monstercock Superstar Contest erfahren und wieso hast du dich entschieden, dabei mitzumachen?
Ich kannte von früher verschiedene Webseiten wie Schwanzvergleich.de wo Schwänze bewertet wurden. Da hab ich immer gerne mitgemacht und landete oft auf Platz 1. Aber die meisten Seiten sind nach einiger Zeit wieder verschwunden. Ich suchte gerade mal wieder in Google, ob es in der Richtung etwas Neues gibt und bin dann auf den Monstercock Superstar Contest gestoßen. Natürlich hab ich nicht lange gezögert und direkt mitgemacht. Am Anfang war mir nicht bewusst, dass dieser Wettbewerb eine größere Nummer ist mit Jury und Präsentation beim Hustlaball etc. Also viel cooler als die anderen Wettbewerbe.

Was war die coolste Reaktion auf deinen Sieg beim Monstercock Superstar Contest?
Da fällt mir jetzt nicht die eine besondere Reaktion ein. Ich habe viele Gratulationen bekommen, und der Sieg hat dann ja besonders am Anfang zu meinem Erfolg bei Twitter beigetragen. Ein Kumpel, der Besucher beim Hustlaball war und vorher nicht von meiner Teilnahme wusste, hat mich dort an meinem Schwanz erkannt und mich danach angesprochen und gratuliert. Daraufhin habe ich ihn dann erstmal richtig ordentlich gefickt.

Vor dem Contest hast du nur für "privat" und (wahrscheinlich) auch weniger Videos gedreht. Wie bist du auf die Idee gekommen, diesen mittlerweile sehr erfolgreichen Twitter Kanal zu gründen? Und wie kam es dann später zu Onlyfans?
Im Frühjahr 2019 habe ich festgestellt, dass die ganzen Porno-Blogs bei Tumblr, die ich lange verfolgt hatte, "zensiert" wurden und zu Twitter umgezogen sind. Zunächst habe ich mir den Twitter-Account nur zugelegt, um Inhalte von anderen anzusehen. Während des Corona Lockdowns kam ich Anfang 2020 auf die Idee selbst einige Fotos aus meiner Sammlung hochzuladen. Und weil ich 2019 den Contest gewonnen hatte, wurde mein Account bald bei Monstercockland erwähnt. Das hat mir eine ordentliche Basis an Followern gebracht. Dann fing es an Spaß zu machen, und ich habe die viele Zeit während Corona genutzt, um mehr Content zu produzieren. Dann bekam ich die ersten Anfragen bezüglich "Collabs" mit anderen Darstellern, die schon wesentlich bekannter waren. Einer der ersten in 2020 war Robert Royal, mit dem ich ein Video drehte, das meinem Twitter nochmal einen ziemlichen Anschub brachte. Da Robert unser Video für seinen Onlyfans nutzen wollte, bat er mich, als Referenz ebenfalls einen Onlyfans-Account zu registrieren. Das hab ich zwar gemacht, aber ich hatte zu diesem Zeitpunkt keine Absicht, neben Twitter noch einen weiteren Kanal zu "bespielen". Insofern blieb mein Onlyfans erstmal ungenutzt während mein Twitter immer größer wurde. Es ergaben sich immer öfter Collabs, z.B. mit Alex Roman, Nikita Kinka oder Vadim Romanov, und meine Sammlung an Videos wurde größer. Im Herbst 2021, nachdem ich bei Twitter die 50K Follower überschritten hatte, habe ich die ersten Videos bei Onlyfans hochgeladen. Auch das hat sich seitdem gut entwickelt. Für mich steht aber weiterhin der Spaß an erster Stelle und nicht das Produzieren von Videos für Onlyfans. Wenn sich beides kombinieren lässt ist es gut, ansonsten würde ich gutem Sex immer Vorrang geben! Beruflich mache ich ohnehin etwas komplett anderes. Das ist auch der Grund, warum ich mein Gesicht nicht zeigen kann und will.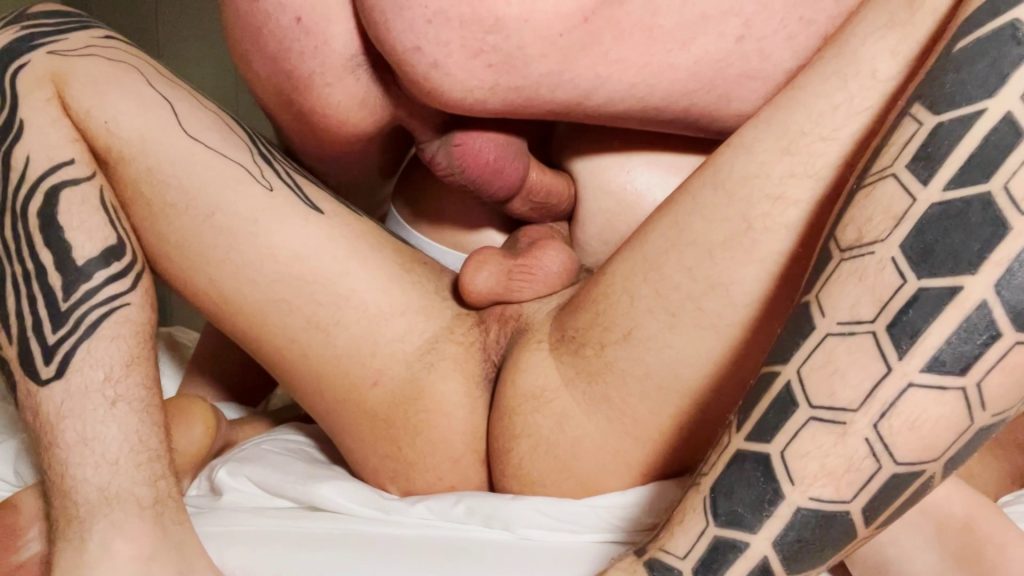 Mittlerweile hast du schon mit einigen bekannteren Pornstars gedreht. Wie kam der Kontakt zustande, wo habt ihr Euch getroffen, und wie hast Du es erlebt?
Der erste Kontakt war bei allen über Direct Message in Twitter. Wobei Nikita und mir aufgefallen ist, dass wir vor Jahren bereits Nummern getauscht hatten. Wir haben uns damals über Grindr kennen gelernt aber uns nicht getroffen weil irgendetwas dazwischen kam.
Alle Drehpartner sind auf unterschiedliche Weise super nett, und wir haben weiterhin guten Kontakt.
Alex Roman habe ich in seinem Hotelzimmer in Frankfurt besucht. Ich war super aufgeregt, denn er war der erste große Star, den ich vor der Kamera gefickt habe. Und er hat ja schon so ziemlich alle krassen Monstercocks unter den Pornostars eingesteckt. Alex hatte sehr viele Regieanweisungen, die zwar echt gut waren, aber das hat mich alles etwas überfordert, weil ich vorher noch nie einen Dreh in dieser Form hatte. Nach dem Shooting waren wir noch 3 Stunden zusammen in Frankfurt unterwegs und haben auf einem Boot auf dem Main etwas gegessen und uns die ganze Zeit super unterhalten.
Mit Robert Royal habe ich mich bereits 3 Mal getroffen. Er kommt öfters nach Frankfurt, und ich besuche ihn dann immer im Hotel. Außerdem schreiben wir regelmäßig. Weil er auch top ist, hat er für unseren 2. Dreh einen sehr geilen und super belastbaren Bottom organisiert, der unsere beiden Riesenschwänze (mit etwas Krafteinsatz) DP nehmen konnte.
Nikita habe ich in seiner Wohnung in Berlin besucht. Das war ein super entspannter Nachmittag und Abend. Beim Drehen waren wir zu viert, wovon einer meistens gefilmt hat. Das erleichtert doch Einiges wenn man sich nicht selbst um Kamera und Licht kümmern muss. Nach dem Drehen waren wir noch so geil, dass wir einfach so noch 2 Runden weiter gefickt haben. Dazwischen gab's sehr leckeres und authentisches vietnamesisches Essen. Nikita hat mir viele gute Tips für Onlyfans gegeben. Mit ihm schreibe ich sehr oft, und wir wollen uns demnächst wieder treffen.
Vadim habe ich auch bei ihm zu Hause in Berlin getroffen. Er war super nett, und der Dreh war sehr entspannt. Wir haben am Anfang einmal die Kamera aufgebaut, und danach gab's einfach Fun ohne Drehbuch und ohne uns weiter um die Kamera zu kümmern. Zwischendurch haben wir nur ein paar zusätzliche Einstellungen mit dem zweiten Handy aus der Hand gefilmt.
Über Twitter und Whatsapp bin ich ebenfalls in Kontakt mit einigen anderen "Celebrities", die aber etwas weiter weg wohnen, aber irgendwann klappt's bestimmt mal mit Ficken und hoffentlich kommt dann auch ein cooles Video dabei heraus. Die meisten meiner Drehs sind jedoch mit weniger bekannten Bottoms, und es gibt viele die meinen riesen Schwanz genauso geil einstecken wie die Stars.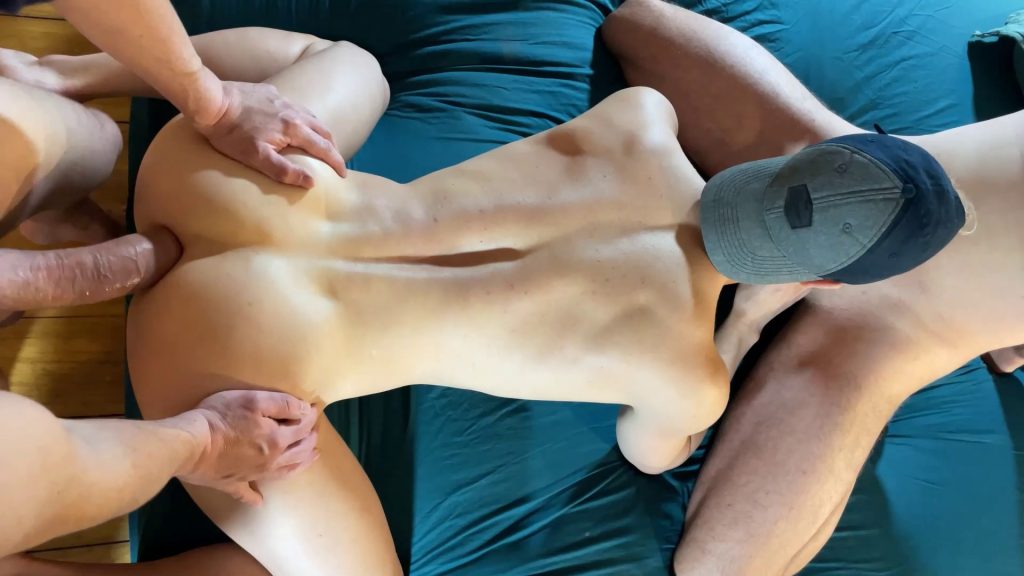 Was ist dein Ratschlag für alle, die noch unentschlossen sind, ob sie beim 2022er Contest mitmachen sollen?
Jeder, der gut bestückt ist und sein Teil gerne beim Duschen im Gym, in der Sauna, am FKK-Strand oder auch im Internet gezeigt hat, sollte unbedingt mitmachen. Aber: Gebt Euch unbedingt etwas Mühe mit den Fotos, denn ich habe schon so viele schlechte Fotos von eigentlich sehr geilen Schwänzen gesehen. Nehmt nicht das erstbeste Bild, sondern macht eine Serie. Variiert dabei die Perspektive und wählt dann die besten Resultate aus. Achtet auf gutes Licht. Tageslicht ist am besten. Wenn künstliches Licht, dann eher indirekt. Und achtet am Schluss auf den Ausschnitt. Habt ihr z.B. ein Selfie im Spiegel gemacht, das Bild selbst ist aber 5 Mal so groß wie der Spiegel, dann schneidet es aus. Sieht man hingehen nur den Schwanz und nichts an Umgebung, dann fehlt die Orientierung. Der schönste und größte Schwanz kann in dem Fall mini und unscheinbar aussehen. Also, zeigt Euer bestes Stück im besten Licht und bester Perspektive und so habt ihr die besten Chancen ebenfalls den New Monstercock Superstar Contest zu gewinnen.