When I was in college, my best friend and work-out buddy was awesome. He worked out much that his muscles were bulging from a frame that compared to mine. I liked working out for my body but to get a look at him and talk with him. We showered individually in private. He was hung and started to show me progressively. While changing, he let stood there with his fat bulge in his athletic boxer shorts with the outline of his dick going down one side of his leg almost peaking out. Finally, one Saturday, we were alone in the college weight room and finished our work out. He went in to change first, I went in after, when I opened the door, I saw him standing naked, with his back toward the locker, showing off his beautiful cock. It was uncut, thick and hung 7 inches long 1.5 inches wide soft. He had a great set of egg sized balls to accompany it. I gasped in awe. He stood there and made conversation while gently swinging his soft dick and showing me what he had. I then got naked and showed him my endowment, liked what he saw and we showered together without either of us getting hard but both of us impressed with the other. Another day, we were at my appt, alone and flipped to porn on cable TV. A guy was getting a BJ from a great looking blond and we both enjoyed the scene. I noticed the, already prominent, bulge in his jeans start to grow thicker and longer down his leg halfway to his knee in incredible proportions. I took a chance and said that I thought we should compare dicks. He agreed, and took off his pants (his dick popped out from under even his athletic boxers) and then showed me everything. He had a massive 9.75 inch erection that was so thick (over 7 inches around) and totally stunningly strait. I got undressed and we jerked and sucked each other off for hours. It was awesome. That was my first time with a guy but we became much closer friends. From then on, our relationship with our own cocks and each other's cocks was forever improved. Both of us continued to fuck girlfriends. We both had huge penises, bigger than the other guys we saw in our college locker room and as big or bigger than the ones we saw in porn. We told each other our erotic secrets and turn ons and we had many in common. One fetish we both were dying to explore was exhibitionism. We both privately got turned on when our partners would react with amazement or comment on our dicks when they saw then for the first time. We needed more. We both felt the urge to show off our cocks and get reactions. I suggested that we should go out to a gay cruising spot or adult theatre or a sauna and fish for reactions to our sizeable dicks.
He was super horny thinking about this and was all in. We were both obsessed with size but also obsessed by the size of our own cocks. We were 18-22 when we started having these exhibitionist outings. We adored them and would talk about them openly and erotically for weeks afterwards they were exhilarating.
We knew that the city had this gay sauna which was large and had many different rooms. I rented a "suite" (a double bed room with porn tv) and we were handed towels and condoms by the attendant. It was dark I fumbled with a key and we made our way along the dark hallways to the room. Along the way, we passed at least a dozen men wearing towels several of whom had interested bulges. They saw the both of us dressed at that time but to take an interest because of our age. the average in the sauna was 45 to 50.
Once in our suite, we couldn't get our clothes off fast enough with no reservations and no qualms about strutting around naked with our big fat dicks out. I turned on the television with big cock porn but the excitement was waiting ahead. Even though neither of us had any difficulties staying hard, I thought it would be fun to take Viagra to make how are dicks obscenely engorged and give us the ability to overcome any refractory period thus producing an even more impressive affect for audience. We each took 50 mg tablets. Evan brought us each two pills of adderall (which took for studying) to give us unusual energy and stamina. He admitted that when he took them he became horny and obsessed with his huge cock fetish that he couldn't keep his hands off his dick and masturbated for hours on end. That all sounded fantastic and we both partook.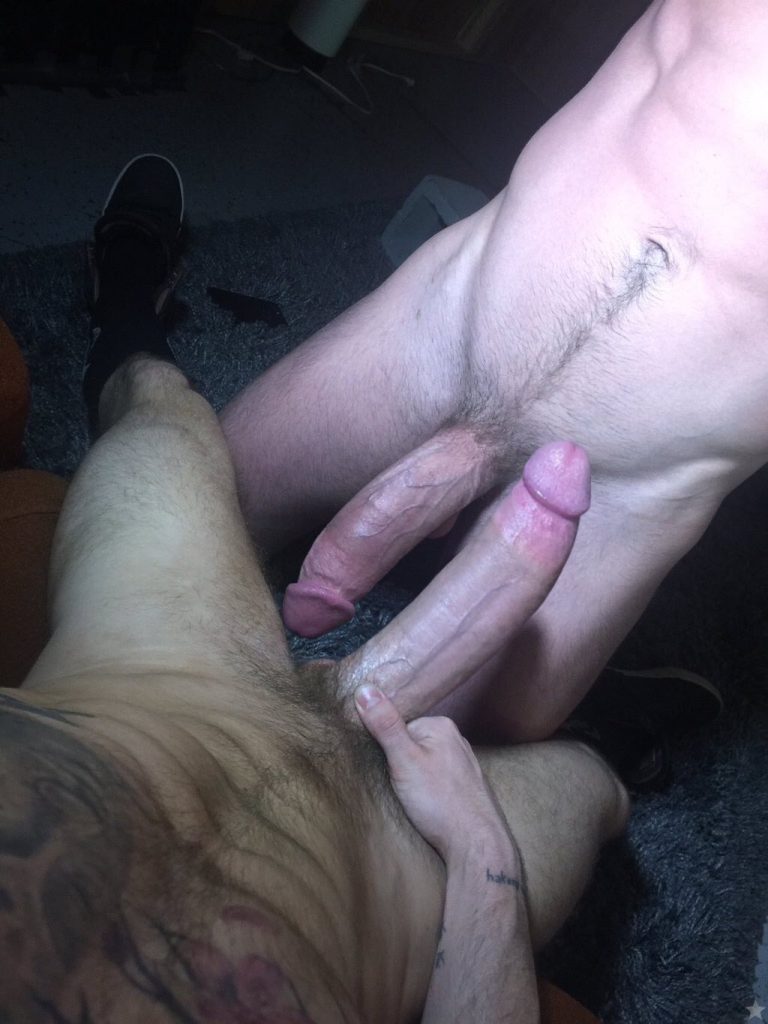 Evan and I were in this together. My penis is large and thick but Evan's was larger, thicker and gorgeous. It was enormous but he gets embarrassed when I use the word enormous. We were going to double-team them. I'm sure that they've rarely seen big cocks like ours on strapping young bodies let alone two. Our plan was to seduce, entice, excite and make as many guys cum as possible from our cock show. Before leaving the suite, I touched his shoulder and said "I want to finish you after we're done playing". He got a big grin and said "you'll finish me. I'm excited about what we're doing. This is too hot man." Our relationship was deep and close starting from childhood and now true compatible partners helping each other fulfill our sexual needs and fetishes in a way that girls never could or would.
We walked around exploring all the rooms. We were not into soaking in the spa or swimming in the pool and first went into the steam room. The steam was thick we could see about 4 feet ahead of us. There was one young tall, fit man with great abs and a tight ass sitting at the far end eagerly keeping an eye open. Evan and I sat beside each other keeping about 1 foot apart between our muscular thighs. Our white towels were draped loosely over our bulging packages. The fit . I reached over and slowly pulled the towels off him while letting mine drop. We both sat back knowing that anyone glimpsing our way would find the the sight irresistible. The hot skinny guy moved to the bench in front of us. He was staring at our long thick flaccid dicks. He removed his own towel and started masturbating his sizeable penis openly in front of us. His cock was at least 7 inches and much thicker than most men. Evan and I looked at each other in the eye and we smiled. It was working we were getting attention and we were turning him on and we both loved it. The guy watching was jerking vigorously. Evan was the first to get up leaving his towel behind and I was right after. We stood in front of him hanging large so he could take us all in. We were both uncut he said he liked that. Evan started grabbing his junk and slowly squeezing and stroking his shaft from to the tip making his soft dick even bigger. I took my cock at the base and started swinging it in a helicopter. Then Evan said to them "I'm gonna show you something special. You're going to Watch me grow for you" Evan then takes his hands off his cock. He put one hand on mine and he started stroking mine like I loved. But the show was his penis begin enlarging lengthening then expanding its girth thicker without even touching it. His giant tube of man meat was rock hard and pointed up at a 45° angle. There was no question my best friends penis was absolute perfection. Looking at it myself I was overwhelmed with lust and desire to have it to suck it to take it all. The guy couldn't help but shoot his big load of cum. He gasped with ecstasy as he did as if he had held his breath the entire time. He just exclaimed "WOW" and thanked us.
We moved on and found a dimly lit room with benches and seats in front of a large movie screen where porn was played. The purpose of this room is clear, showoffs like me and Evan were meant to masturbate watching porn while anyone could watch us and jerk off themselves. We settled in beside each other with our thighs closer 6 inches apart he had muscular thighs and I admired his body. It was nice to get a fresh look at his beautiful male genitals. I couldn't help to look at him in all his glory and the desire to give my friend the greatest sexual pleasure grew intense. We started talking with each other about reactions we've had to the size of our dicks from sexual partners, other guys in the locker room and the urinals. He confessed that he got turned on when he could amaze someone with his cock. This made us both hard. We started watching the porn movie and were happy to discover that it was big dick porn. My own majestic shaft was the first to get hard. My bulbous purple cock head was peeking half out from the foreskin which had become too small to contain it all. Evan love that and says it feels like a bulky swollen plum in the back of his throat when he goes down on me. Evan getting erect is incredible to behold. Gay men from the sauna started gathering around but keeping their distance. We noticed a male-female couple watching us. At this point, I was aroused and erect with one big hand of mine stroking the shark below the head to the base over and over again but always keeping a good view for the audience not going to quickly and not covering up too much.
Ever since early days in high school and college people Random people have been excited and turned on by seeing the size of my penis. Mine is girthy and long. I passed 8 inches by my mid adolescence reaching 8.8 inches in length and 6.5 inches in girth at full size. Both Evan and I have had several encounters where we were offered money, blow jobs, drugs and even prostitutes to see us expose our dicks and masturbate until we come. One guy paid me $200 to jerk off in his face and come all over his mouth. As Evan and I confided in each other, these experiences reinforced our huge penis size obsession and fetish for exhibitionism.
My best friend was finally hard and full size. Both of us, one beside the other, now rubbing our thighs against each other, became the main attraction.
Horny men oogled us captivated and enraptured by the explicitly obscene pornographic spectacle before them. We adored interacting with those watching staring our live huge cock peep show. We responded to many requests. We danced seductively, we shoved our dicks in a few willing faces and even let strangers feel and touch our shafts. We were pleasuring ourselves and getting off.
To tease them Evan and I took turns kissing each other's cocks and licking like lollipops. Guys wanted to compare cocks with us and we did … we were always bigger. I noticed that Evan started thrusting his pelvis and contracting his pelvic muscles more telling me that he was having a great time and was building up to come shot. His scrotum contracted over his egg sized testicles conforming to their sheep and making them stand out all the more. I slowly placed my right hand on Evan's die leaving it there for a moment and then caressing his bulging quadricep finding my way up and feeling his balls in my hand. I gently moved his own hand away from his shaft and wrapped mine around it. Trying to encircle his big fat dick with my hands was always hot because despite having extra large hands and wearing extra large gloves size, its massive girth made it impossible to encircle. I leaned in close to him and said "I want to be the one to finish you off and take everything you've got to give me tonight. We should edge our massive cocks and hold back from coming". I could tell he has enjoying himself and that he was titillated by the whole scene. It was obvious that our exhibitionist plan was an erotic success. They loved us we had lots of sexy size reactions and compliments. We had a lot of offers to give us blow jobs and everyone wanted to touch our dicks. We decided to leave the guys with a demonstration that would rock their world and burn into their memories.
Damn, with that Viagra we took earlier our dicks were large and massively engorged they looked incredible. I gave Evan a look and I looked down at my own dick and I looked back at him. He got the hint. In front these fans I began to lean over and lick the tip of my cock slowly sensually pulling back the foreskin then pushing deeper it wasn't a struggle at that age. We were young. My big bulbous plum head went all the way into my mouth touching the back of my throat while I stroked the base. Evan began to do the same. Because he was thicker it was more of a struggle for him to take his entire head but his long powerful tongue wrapped all the way over his cock and he licked and caressed it like he's been giving himself a blow job all his life which is not far from true. We did this while touching each other's thighs and squeezing each other's balls as a demonstration of our virility inducing awe and amazement in the guys who were watching. They gasped. They expressed that never seen anything like it they didn't think it was possible. They must've thought we were porn stars or adult performers.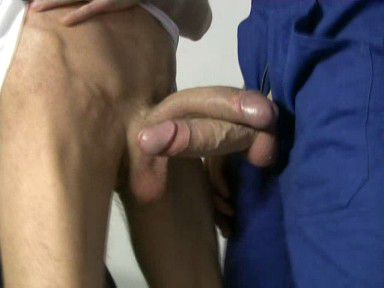 I confess to Evan that my size obsession was intense. All I could think about was huge dick. It was like an unstoppable urge to devour and take on the biggest penis possible. Evan smiled and said that he was obsessing and couldn't stop thinking about one thing. He said "I can't stop thinking about your cock it's the only thing that matters and I want it bad". "This was a great idea you had it was exhilarating". "You're my best friend and you have the best cock I've ever seen besides my own".
With that, we went to our suite and closed the door. Evan's monster was erect but he wanted me first. He worshipped me he worshiped my cock and his energy and fervour in pleasuring me with his mouth and his hands all over was manic in intensity. We rolled on our sides and I finally begin to devour his monster. I was lucky his penis was majestic and everything I needed and wanted in a cock. Combined with feeling closeness to him I couldn't get enough. I deep throated him as far as I could and then even farther. That huge thick head of his was down my throat making a lump. I shoved it deeper than pulled back wrapping the base of my tongue all over. Having the same equipment, I knew how good this felt and I knew I was giving him the best erotic and extreme pleasure he's ever had. Over and over again I wrapped my lips, the soft pallet of my mouth my cheeks and my skilful tongue accelerating to a purposefully fast rhythm. When I took a deep breath from time to time I would admire the massive shaft and would stroke his monster fervently. His pelvis what's thrusting again what's thrusting deeper into my mouth was thrusting. I could see is abdominal muscles contract repeatedly. I put my hand on the side of his buttocks and felt his firm around ass contract I knew he was going to come it was irresistible. I was familiar with his penis and everything about it and I had given him pleasure before but I was astounded by what happenned next. Pre-cum started flowing abundantly in an unusually large amount. We had been edging all night and something had built up in those massive genitals. I firmly encircled his cock head with my lips while massaging it with my tongue and stroking at the determined rhythm over and over and over again. Two minutes later he warned me I can't stop I'm going to come. "I can't hold back" he said. I told him to come. He warned me again "no you don't understand it's too much it's too much". I didn't care. I didn't know what he meant. Then he bucked his hips uncontrollably and moaned with sheer ecstasy when I felt muscle contractions throughout his genitals and his pelvis so strong they shocked me. He started shooting his cum with thick powerful jets which hit the back of my throat with intensity I gagged. One after the other after the other end over eight times he ejaculated a massive volume of cum like I've never experienced before. Even though I kept my mouth on his cock and my lips tightly encircled the strength of his jets were so powerful my mouth started squirting his cum out as it overflowed with warm delicious fluid. I took a big gulp and swallowed but he wasn't done. I took my mouth off for a moment and he squirted again and again so powerfully that it hit the ceiling. He squirted over his head and covered everything in a thick layer of cum.
It was amazing I was fulfilled and satisfied. He apologized for the mess and told me he tried to warn me. I returned the favour by gushing huge amounts of cum in his mouth. We took a few minutes to rest and then packed up and headed back to his apartment where we slept soundly the night in the same bed naked.