Monstercock Superstar Contest
MonsterCockLand and Hustlaball Berlin are searching for the next Monstercock Superstar. Are you super hung? Are you always getting a lot of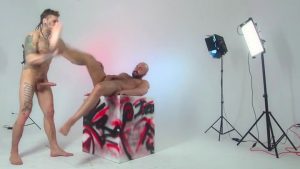 attention when you unpack your enormous meat? Then you are what we are looking for. The winner will be flown into Hustlaball Berlin (October 18th to October 21st), stays in an apartment with other super hot and hung pornstars and will be part of a live show at Hustaball Berlin. Of course, there will be shootings for Monstercockland and other well known studios.

Please fill out this form to take part in the competition.
Some more info:


To become the next big-dick-pornstar, you obviously need to have a really huge cock. If your dick is always one of the biggest at any sexparty, in the sauna or in the gym shower, then you are our candidate. If you get comments like "wow, that's a huge cock" on a regular basis, you are our candidate. If your dick is about the size of our featured Monstercock Stars, then fill out the application form immediately!
You should also be proud of showing what you have. You should love being watched and filmed while you get your oversized tool serviced and or while filling ass with your monster cock.
Click here to take part in the Hustaball Berlin & MonsterCockLand Pornstar Casting.
Are you big enough to join the @Monster_C_Land and @HustlaBall_BLN #bigdick pornstar contest? All extra hung dudes go to https://t.co/EyZEtjIGjM and win a trip to Berlin's #Hustlaball this year. pic.twitter.com/78UnaNSfY4

— MonsterCockLand (@Monster_C_Land) 16. August 2018
Rules
Phase 1: Fill out the form and upload your pics/ video till Sep 20th.
Phase 2: Users voting. Your picture will be displayed in a voting environment here on MonsterCockLand till October 5th
Phase 3: Jury voting
Phase 4: Winner(s) will be contacted till October 10th
Phase 5: Winner(s) will be officially announced during Hustlaball Awards Show at KitKatClub Berlin on Friday October 19th.