English translated Version
It was about 15 years ago. I was 35, newly divorced and extremely horny.
There was an ONS every now and then, but that didn't do me much good.
The dicks were not big enough for me. I was used to a lot from my ex, because Mother Nature endowed him with a really huge penis. Unfortunately, that was his only asset.
I was quite frustrated and went to a lonely on a nice afternoon. I was on the meadow in a quiet, secluded corner reading a book leaning against a tree when a boy, no more than 20 years old, sat down not far from me.
Since I only saw him from an angle, I wasn't interested at first because of his obvious youth and Iread on. After all, I am more attracted to grown men.
When I looked up from my book and my eyes grazed the boy, I almost caught my breath. He was lying on his back, apparently dozing. His triangular poser-briefs bulged over his loins to such a huge bulge that the leg openings stood out clearly and allowed a glimpse of his cock.
His enormous flesh-beast was curled forward, forming a massive mountain of impressive height.
I got really horny because I had never seen anything like it. Without me being able to do anything about it, my hands began to play with my heavy tits.
I stroked my hard nipples, which pushed through the sheer fabric of my very tight bikini top, and I could not stop starring at his cock mountain. My pussy was already soaking wet and I had to keep reaching into my panties with the other hand.
Suddenly the boy opened his eyes and looked at me.
I wanted to take my hand out of my panties, but too late, he had already noticed that I was masturbating. Out of sheer lust I forgot all shame and masturbated on.
Then his hand slipped to his pants and he began to knead the huge cock. It only took a few moments before his huge penis slipped out of his briefs. Although still flaccid, the monstrous meat was now about the size of my ex's cock when erect who was hung 26 x 6 cm. (10.5×6)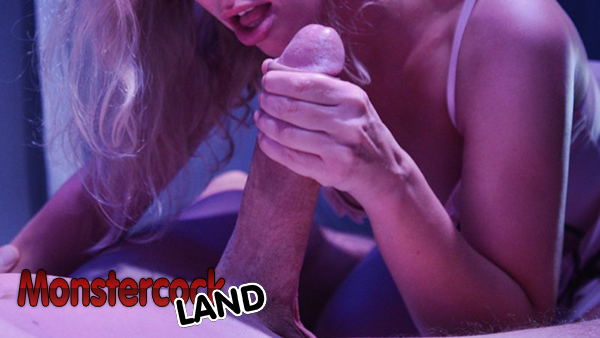 I looked around briefly; there was no one to be seen apart from the two of us. So I got braver and kneaded my breasts so hard that they slipped out of the bikini. The boy stroked his thick, long penis, which was getting bigger and bigger. Finally his monstercock was hard.
A glans bigger than a tennis ball crowned a shaft that looked like a tree trunk, unbelievable long and colossally thick.

I was now masturbating completely unashamedly and could already feel the first orgasm surging when the boy stood up, took off his panties and came towards me, his cock dangling heavily. He stood right in front of me and started jerking off his monster with both hands right in front of my face. That made me furious and so I quickly undressed.
We hadn't exchanged a word when my greedy mouth was already on his enormous cock. The thing was way too thick to put in my mouth.
I couldn't get it open that far. Licking and sucking, I caressed his huge glans while he held out his member with both hands.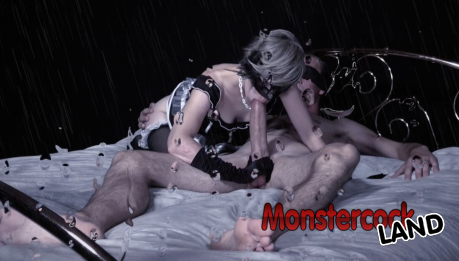 After an extensive suck off, he pulled his cock back and devoted himself to my breasts. He greedily sucked on my warts, which were getting harder and harder. My pussy was already leaking when his hand finally reached her.

His fingers skilfully slid over my swollen to bursting clit and repeatedly penetrated my soaking wet, fairly wide cunt.

Groaning, he said his first words to me: "Great, how wide you are! I totally have to fuck you!"
I wanted that too, although I had some concerns about his cock size. I've never had anything so huge inside of me. Not even my biggest dildo came close to these monstrous dimensions. But I only had one wish left: to be fucked by this monster prick.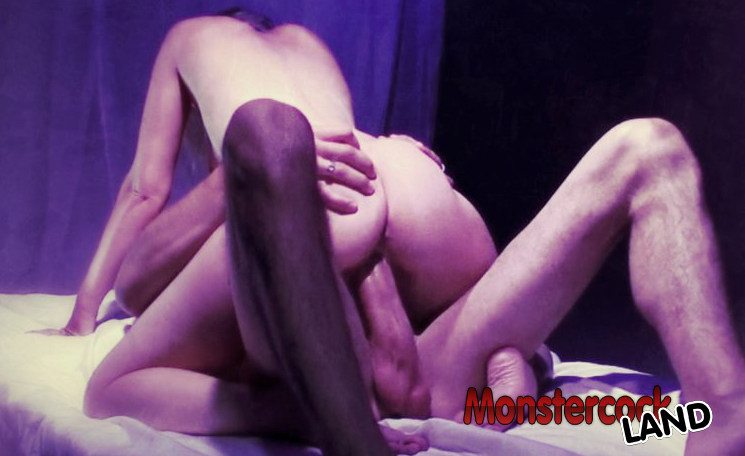 I told him to lie on his back and hold his penis straight up.
It was an incredible sight as he lay there with both hands holding that huge throbbing cock. I stood over him with my legs apart and slowly lowered myself onto the monster cock. The thick glans bored into my grotto. Very slowly I pushed the godcock in and had the feeling of being torn apart.
The cock was so enormously thick that even my practiced and well stretchable pussy hurt.
Nevertheless, it was a great feeling and little by little I got used to the abnormal thickness. I drove the hot stiff thing deeper and deeper into me.

But since 20 cm is finally the end for me too, a lot of cock was still looking out of my pussy when I started to ride it. I fucked him harder and harder and several heavy orgasms almost robbed me of consciousness.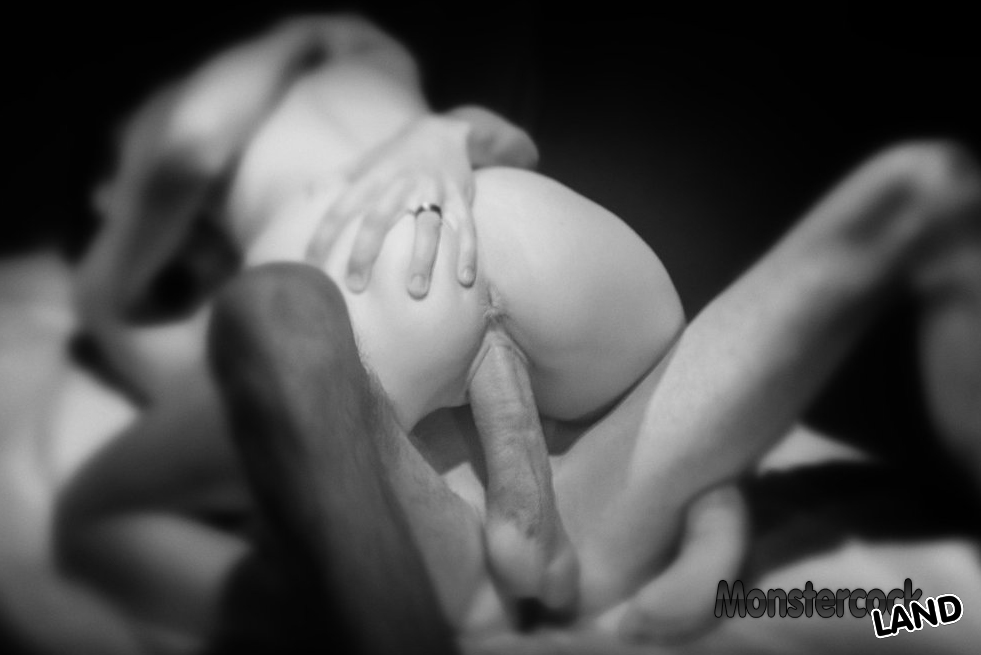 I finally felt his huge cock getting harder and twitching harder and harder. Then he shot a massive load of hot sperm into my cunt and at the same time it came to me again in an intensity that I had never experienced before.
Once we caught our breath, we introduced ourselves.
We had fucked without even knowing our names. Arno caressed me tenderly and whispered in my ear: "Do you know that you just made me a man? That was just my first fuck. No girl has ever dared before to stick my cock in because it's so huge. Up until puberty I was still proud to have a much bigger cock than the others.

Even when I was 10, it was bigger than my dad's. But when he started to grow and didn't want to stop getting bigger, I got queasy. But now I finally know that such a Anaconda can find a grotto."
I had to laugh and said, "Okay, I'm used to big cocks, but honestly, I've never seen a monster like this before. I'm all the happier that your cock fits me.
You have to know, because I've always been incredibly horny for cocks and I like it when guys have real mancocks"
"
That afternoon I took Arno to my house and we kept fucking for hours. From that day on he visited me at least three times a week.
At some point I also measured his 3rd leg. It was monumental 33cm long and 8cm thick. (13.5×8) The most incredible cock I have ever had by far.
Unfortunately Arno had to move away two years later and so we lost touch.
But to this day I still dream of that enormous cock that filled me like no other.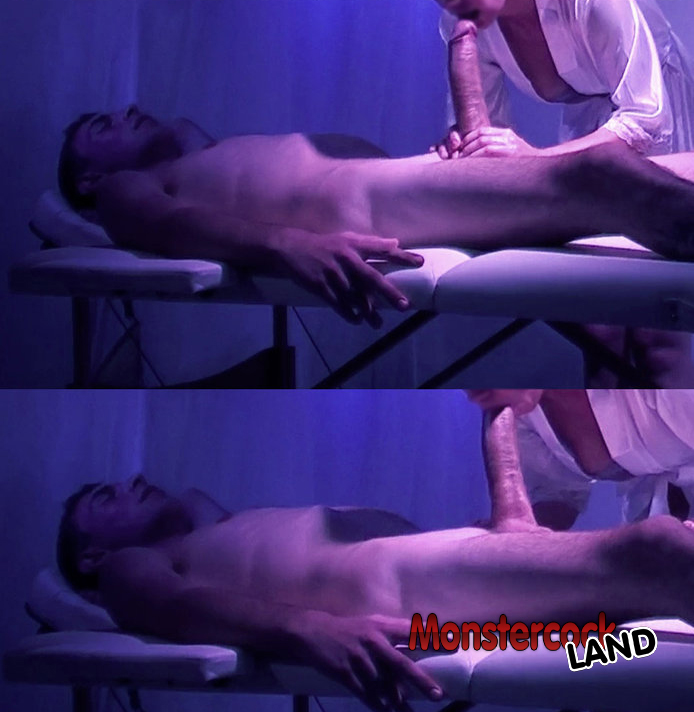 Check out the best videos of super sized straight fuckers at Monstercockland